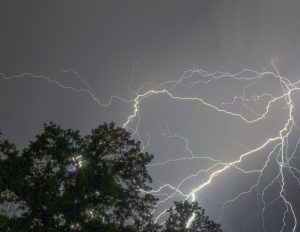 Tuolumne Lightning

View Photos
Sonora, CA — There was a pretty good lightning show in the Mother Lode last night, and some heavy rain reported in areas.
CAL Fire reports that one incident could have been lightning related. A 10 ft. x 10 ft. fire started around midnight along Camage Avenue in Tuolumne County. It was quickly contained.
Sometimes it takes several hours for lightning caused fires to start sizzling and showing smoke. Fire officials will keep an eye on things over the next 24 hours.
A special thanks to community news partner David Wheat for sending in the photo.