Busy Weekend For Firefighters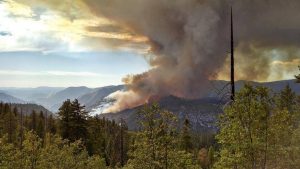 El Portal Fire

View Photos
Crews have stopped a fire on Fraguero Road, but large fires continue to burn near El Portal and in Amador County.
CAL Fire reports the forward progress has been stopped on a vegetation fire in the 9000 block of Fraguero Road. The fire, east of Tuttletown, started at around 2:30pm and burned an estimated 6-7 acres. Air resources have been released from the incident. There are no reports of any homes or structures being damaged. The cause of the fire is under investigation.
The El Portal Fire has burned over 2,100 acres, and is considered 5% contained. One structure has been destroyed. Park officials still report that the Big Oak Flat Road (Highway 120) is closed between Crane Flat and El Portal Road. However, if you enter the park from Highway 120 you will still be able to access Tioga Pass. Yosemite Valley is open, but the only access is via Highway 140 and Highway 41. A Type 1 Incident Command Team will take over operations later this afternoon.
The Sand Fire in Amador County, north of Plymouth, is estimated to be 3,800-4,000 acres. It is 35% contained. There are 515 homes threatened. 10 homes have been destroyed, as well as seven outbuildings. 1,400 firefighters are on scene.
All of the fires have combined to create smoky conditions across the Mother Lode.
A special thanks to our community news partners Rob Buchanan, David Wheat and Amy Gladen for sending in photos. They can be emailed to news@clarkebroadcasting.com.