Fourth Year Of Drought Looming?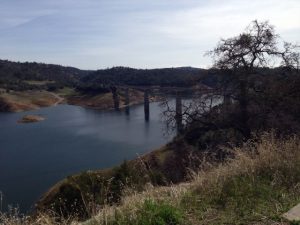 New Melones low water levels

View Photos
Sonora, CA — While Tuolumne County water officials are actively working to get through the current drought, there is growing concern about the potential of a fourth dry year.
T.U.D. General Manager Tom Scesa says it is always difficult to know how much rain or snow will fall. That said, the State of California's climate specialists have 36 weather models they use to project seasonal precipitation. Scesa says all 36 are predicting a "light to moderate" El Nino year. He says while the term El Nino sounds promising, it can be misleading.
"We have some great weather data in the Central Sierra, and some of it goes back over a 100 years," he says. "If you look at the data for years when there were light to moderate El Nino effects, the current thought process of the state weather experts is that there is a 55-75% chance that we will have below normal rainfall next winter."
Scesa says T.U.D. is taking steps now in anticipation of another dry year. T.U.D.'s water allocation from Pinecrest must be used by January 1st. He is asking for an exception this year, so that some of the extra water might be stored for later use. T.U.D. has also started reaching out to the South San Joaquin Irrigation District about the possibility of piping more water from New Melones next year, if the need arises.
Scesa made the comments on today's Mother Lode Views. The show will be re-aired Sunday morning.