Thieves Hit Calaveras County Fairgrounds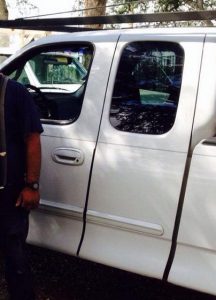 Calaveras County Fair truck stolen

View Photos
Angels Camp, CA — Fair Officials are asking for your help to find stolen items, including a recently purchased truck. It is a white 2000 Ford F-150 pickup, pictured to the left, with a lumber rack, toolboxes and dealer plates.  The truck was bought by the Friends of the Calaveras County Fair for $4000 and donated to the fair in May.
"People have worked really hard in our community to make our fair what it is today," says CEO-Fair Manager Laurie Giannini. "They didn't just steal it from the fairground.  They stole this truck and other items from the whole community.   It's a loss for the community, I feel, it's because of them [citizens] that we have been able to acquire these things that we needed."
Fair Officials say the break-in happened between 1 am and 7 am this morning.  The burglars busted the lock on the shop door, then ransacked the inside. They stole electrical supplies and power tools, and then drove off in the new truck.  Now Fair officials want your help to not only catch the thieves, but in hopes of recovering some of the stolen items.
"Most of our tools have an engraving that will say 39DAA on them. They are laser engraved so if you see anything just let the [Calaveras County] Sheriff's office know," says Giannini.
Giannini estimates the tools are worth more than $10,000 and that number could climb as they are still checking for missing items. If you have any information on the burglary, you can call the Calaveras County Sheriff's Department at 209-754-6500.