Yosemite Visitor Numbers Down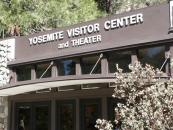 Yosemite Valley Visitor Center and Theater

View Photos
Yosemite, CA — A new national parks study shows Yosemite's visitor numbers down for 2013, but Park Officials say it was not a typical year.
Economists with the U.S. Geological Survey conducted an economic impact study of national parks across the country.
In regards to Yosemite National Park, the report showed tourism created $373,269,800 in economic benefits and supports 5,033 local jobs.  The study showed the number of visitors was down by around 30,400 from 2012. Routinely the visitor's number has hovered around the four million mark each year for the past decade.  Park officials contribute the drop to the drought, Rim Fire and the government shutdown and say, while that number does not seem steep, considering those three factors the numbers can be misleading.
Ranger Kari Cobb says, "The impact definitely showed up on the radar. Unfortunately, it isn't something we can quantify just based on this report and it doesn't show the actual impact, it's just an estimate on what we think based on this report. Although any of us who were here during that time know that it did have an impact on our communities and the park."
The report shows that overall national parks had 273.6 million visitors that spent 14.6 billion dollars in communities within 60 miles of a national park. To view the entire report click here.