Stolen Tillamook Buses Found In Storage Unit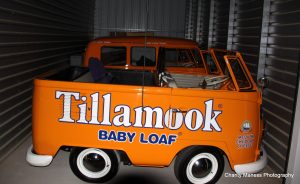 Tillamook Buses Recovered From Storage Unit

View Photos
Copperopolis, CA — Three stolen Tillamook cheese company buses were located, undamaged, in Copperopolis.
The buses have a combined value of about $300,000. As reported previously, they were stolen out of Manteca over the weekend, and the truck and cargo trailer they were stored in was found lit on fire outside of Jamestown. Authorities from San Joaquin County received tips and issued a search warrant last night at the 49 Cosmic Court Storage Unit in Copperopolis. Inside, authorities found the three vehicles.
There are several suspects wanted for questioning in this case, and the Manteca Police Department notes that more information will be released soon regarding their identities. No one has been arrested to this point.
The investigation was carried out by the San Joaquin County Delta Regional Auto Theft Task Force, which consists of the CHP, Manteca PD, San Joaquin County Sheriff's Department, Lodi Police Department, San Joaquin County Probation Department and the San Joaquin County District Attorney's Office.
A special thanks to Charity Maness for sending in photos from the scene.