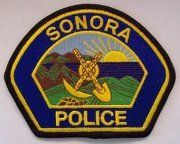 Sonora Police Seal

View Photos
Sonora, CA — The Sonora Police Department is looking into an incident involving a two-year-old child found wandering around the 100 block of Shepherd Street.
The Police Department report from Chief Mark Stinson says the toddler was-found carrying a kitchen knife, and only wearing a diaper. The witness who found the child searched for the toddler's parents for several minutes. The child was then dropped off at a nearby medical office, and the witness continued to look for the parents.
The Police Department says the witness found a man near a creek and asked him if he was looking for a child. The man was evasive and stated he didn't know. The witness followed the man to a home on Brookside Place, where another man came out, who admitted that he was watching the child.
That man is 32-year-old Johnnie Schriver of Sonora. Schriver said he thought the child was in the backyard playing. However, when he went out to check on the child, the boy was missing and the side gate was open.
An investigation is ongoing. The PD reports the toddler has been turned over to Child Welfare Services.
The incident happened late last week. The Tuolumne County District Attorney's Office is reviewing the case and child endangerment charges could follow.
Schriver told officers that the child was missing for about 10 minutes, but the Police Department reports it was closer to 20 minutes.
Chief Stinson notes that the mother was in the hospital at the time of the incident, and Schriver had been involved in the child's life since the boy was around four months old.