Sonora Police Looking for Fire Suspect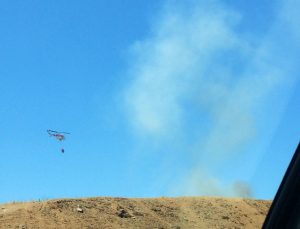 Highway 108 fire

View Photos
Sonora, CA — A cooking fire is to blame for a vegetation blaze along Highway 108 according to Sonora Police. The fire broke out this past Wednesday on the highway near Lime Kiln Road and burned a ¼ acre.
When the fire was out, the Sonora Police Department's Fire Investigation Unit started looking into what sparked the blaze. The investigation led them to a homeless camp in the area. Once there, investigators determined an unattended cooking fire ignited the blaze.  Investigators say the flames spread, as there was no fire pit dug or clearance area around the fire from the dry vegetation. A Sonora Police report states, "The fire was merely built on top of the ground, in dry vegetation, by one of the residents of the homeless camp".
Investigators are asking for your help in identify and located those responsible for the campfire. If found they could be arrested for unlawfully causing a fire. If you have any information, call the Sonora Police Department at 532-8143.