New Details On HWY 4 Fire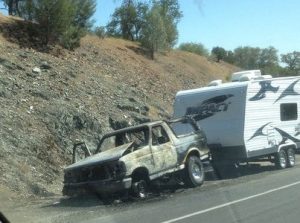 Highway 4 vehicle and vegetation fire Photo taken by: Mark Anderson

View Photos
Copperopolis, CA – Cal Fire has released more details on a vehicle fire that spread to vegetation on Highway 4 near Copperopolis. Cal Fire confirms that a trailer fire spread to nearby heavy brush at 2:22 pm.  A Ford Bronco towing a camper up the grade on the highway near Christian Gulch caught on fire.  The driver pulled over on the side of the road, which ignited grass on the shoulder.
Cal Fire reports 4 ½ acres were burned before crews on the ground and in the air contained the blaze. Firefighters finished mopping up at 8:30 pm.
Click here for a map.
A special thanks to our community news partner Mark Anderson for sending in a photo.