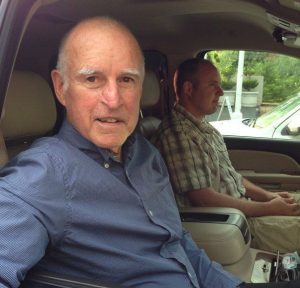 Governor Brown at the Mother Lode Fair: Photo taken by: Tracey Petersen

View Photos
Sonora, CA — Governor Jerry Brown surprised Mother Lode Fair goers tonight.  The California legislature is in recess, and Brown decided to make a quick trip to the Mother Lode.  We caught up with Brown as he was stepping into his SUV and leaving the fairgrounds.
"Well, I came to Twain Harte and on my way home to Oakland I thought I'd stop in and see the fair.  It's [Sonora] a great city.  It's got great history. It was great to see the fair on its first day. It's looking good."
Coincidently, the Governor's Drought Task Force will be meeting tomorrow in Sonora. However, Brown says he will not be in attendance.
"We got a real challenge in the drought, but I think folks here are doing the best they can."
It was Brown's second trip to Tuolumne County within the past year. Brown met with Rim Fire responders in Tuolumne City this past August.