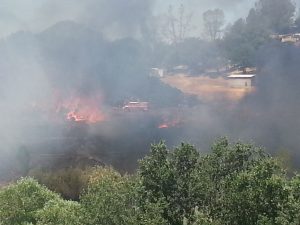 Fire Engine in the middle of the Standard Mill Fire Photo by Jason Banks

View Photos
Standard, CA — It's expected to take an extended time to fully extinguish the fire burning at the SPI Standard Mill property.
"These logs have been reclaimed from the Rim Fire, and I would say we have two to three large log decks on fire," says CAL Fire Captain Mike Spear. "We have multiple resources from throughout the county here. We have our air tankers and helicopter from Columbia assisting. I would say we'll be on scene here for two to three days cooling it and making sure it doesn't extend into the wildland. It is currently not in the wildland, and we're making sure that doesn't extend there."
Some of the logs are estimated to be around 28 inches in diameter. Captain Spear notes that no structures are considered in danger. CAL Fire is encouraging everyone to avoid Standard Road due to the large amount of fire equipment in the area.
Click here for a map of the site.
A special thanks to our community news partner Jason Banks, Kari Hartzell, Dale Friend and Jennifer Batt for sending in these photos