New Book Covers 1970 Robbery At Local Ski Area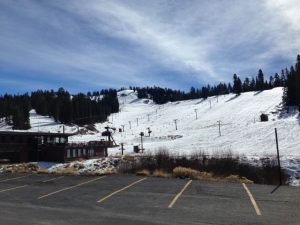 Dodge Ridge

View Photos
It is a book that reads like a fictional novel, however "Rookie Cop Versus the West Coast Mafia" is non-fiction and is co-written by a man who has been in Bay area law enforcement for the past 46 years.
William Palamini, Police Chief and book author, was Friday's KVML "Newsmaker of the Day".
In this true crime exposé, Palmini writes about being a rookie detective with hopes to take down the "West Coast Mafia".
Palmini worked hard to gain the confidence of notorious mob operative William Ettleman. Set against a backdrop of social turmoil, the book immerses readers in Bay area music, free love, drugs, robbery and murder, orchestrated by organized crime in locations like Sausalito, California.
Palmini, utilizing Ettleman, joined the FBI and the Federal Strike Force on Organized Crime to penetrate the crime scene in Sausalito, loaded dice in Las Vegas and Reno, corruption in San Diego and stolen credit cards in Texas. Then he begins to break up one of the most notorious gangs on the West Coast.
One of the featured stories in the book, involves Dodge Ridge ski area in Tuolumne County. In March of 1970, an armed gang of masked bandits tied up four Dodge Ridge employees and slashed telephone lines.According to the book and old newspaper articles, two safes were stolen containing a total of $100,000 to $250,000.
Tuolumne County Sheriff's Lt. Orv Childress was quoted from UPI on March 9th, 1970 as saying he was convinced that the holdup was performed by "professionals".
Palmini writes in the book, that this crime was directly related with the "West Coast Mafia".
"I was in Tuolumne County about four years ago, researching this particular robbery," said Palmini. "I visited Dodge Ridge, Strawberry, the Sheriff's Department and the nearby library. Everyone was very friendly in helping me with my research."
Although this event may bring back bad memories for some of the locals, Palmini insists that it is important that the complete story be told as to what happened on that day in 1970.
"Rookie Cop versus the West Coast Mafia" is available at select bookstores from online sources.
The "Newsmaker of the Day" is heard every weekday on AM 1450 KVML at 6:45, 7:45 and 8:45am.