Legendary Coach Castle Passes Away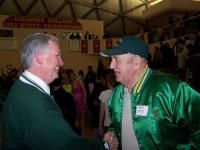 Sonora High Basketball Coaches Rick Francis (left) and Bud Castle (right) shake hands in 2009

View Photos
Sonora, CA — The namesake of Bud Castle Gym at Sonora High School has died at the age of 88.
Loyal "Bud" Castle, a longtime teacher and Coach, passed away Tuesday evening at the Avalon Care Center in Sonora.
"He had a major impact upon my life, as well as so many players that he coached and taught over the years," says Rick Francis, former Wildcats Boys basketball coach. "He was so knowledgeable in so many areas. He was a pretty special man."
Francis had replaced Castle as Head Basketball Coach.
The Terzich and Wilson Funeral Home is overseeing funeral arrangements. A memorial service is expected to come at a later time. We'll pass along more information when it becomes available.