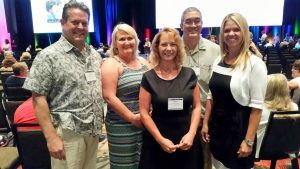 Annual Model Schools Conference Attendees (in photo, left to right) Scott Nanik, Director, Calaveras County Office of Education; Angela Howard, Vice Principal, Jenny Lind Elementary; Jennifer Truman, Teacher, Bret Harte High School; Mike Nagano, Lead Teacher, Calaveras River Academy; Tierra Crothers, Principal, San Andreas Elementary

View Photos
Angels Camp, CA — Five Calaveras County educators participated in the 22nd Annual Model Schools Conference in Orlando, Florida in June.  The county's educators were taught the latest tools being used internationally to keep students engaged in the classroom.
Calaveras County Office of Education Director Scott Nanik says, "It was a fantastic conference, with almost 5,000 attendees. It inspired us to think outside the box on how to improve our schools in Calaveras County."
Also in attendance from Calaveras County were Angela Howard: Vice Principal at Jenny Lind Elementary, Jennifer Truman: a teacher at Bret Harte High School, Mike Nagano: Lead Teacher at Calaveras River Academy, and Tierra Crothers: Principal of San Andreas Elementary
The International Center for Leadership in Education organized the conference.  The Calaveras County Office of Education funded the trip through the Regional System of District and School Support, Region 6.