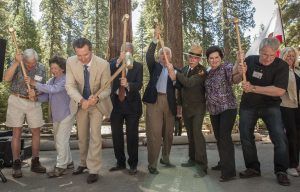 150th Anniversary of Yosemite Grant

View Photos
Yosemite, CA — In honor of the 150th Anniversary of President Lincoln signing the Yosemite Grant, the park held a groundbreaking ceremony for the Mariposa Grove Restoration Project.
Dignataries that were on hand for yesterday's celebration included National Park Service Director Jon Jarvis, Lt. Governor Gavin Newsom, Congressman Tom McClintock and Congressman Jim Costa.
NPS Director Jarvis stated, "On the 150th Anniversary of the Yosemite Grant Act, we stand in awe among these giant trees that are thousands of years old and are reminded about the importance of protecting our natural resources so that future generations can experience what John Muir called 'nature's forest masterpiece.'"
The Mariposa Grove includes 500 mature giant sequoias that are among the oldest and largest living things on Earth. The National Park Service approved a $36 million improvement plan for the area around the grove, of which $16 million will come from the National Park Service and $20 million from the non-profit Yosemite Conservancy.
Yosemite officials report that the grove has been unintentionally damaged over recent decades by human traffic. The restoration plan calls for relocating parking and visitor facilities to the south entrance, converting several paved roads to pedestrian trails, improving natural water flows to reduce erosion,  and adding new visitor education components.