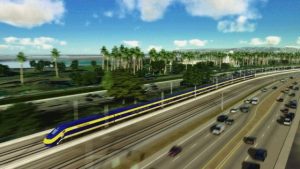 California High Speed Rail Artist Rendering

View Photos
The U.S. Department of Transportation has approved work to begin on the first leg of California's bullet train. That decision, handed down today, allows the state to begin acquiring land along the 114-mile route between Fresno and Bakersfield. The endorsement approved the environmental review by the state agency overseeing the $68 billion project.
Transportation Secretary Anthony Foxx has called the decision a "major step forward" for high-speed rail in the U.S.
Approval from the federal Surface Transportation Board will be needed before construction can begin. California's bullet train project has been derailed by several legal battles, including a court ruling that has prevented the state from selling $8.6 billion in bonds. State officials are circumventing that obstacle by spending federal money while that decision is appealed.