Calaveras Veteran Honored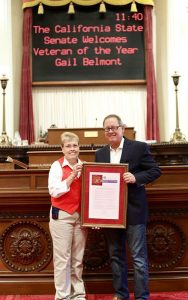 Gail Belmont Honored By Senate

View Photos
Calaveras County, CA — The founder of a local non-profit group has been named the 2014 Veteran of the Year for the 14th Senate District.
Staff Sgt. Gail Belmont, a Calaveras County resident, founded the group "Quilts of Honor" in 2010. The group honors active military members, and Veterans, suffering from combat related injuries, with handmade patriotic quilts. 300 volunteer quilters from across the foothills, and Central Valley, produce about 2,000 quilts each year. The organization has grown and now has chapters in Texas, Wisconsin, Kansas, Virginia, and Idaho.
Belmont's military service began at age 18, and her first assignment was to perform Taps at a funeral service for fallen soldiers during the Vietnam War. She rose to the rank of Staff Sgt., and received the National Defense and Good Conduct medals before completing her military service.
Belmont received a Senate Resolution honoring her service from District 14 Senator Tom Berryhill.