Cause Determined In Mountain Ranch Fire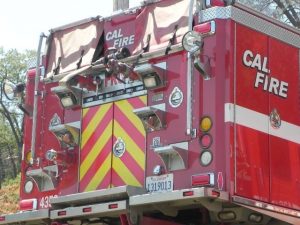 Cal Fire Truck

View Photos
Mountain Ranch, CA — Cal Fire reports playing with fire is what sparked a three-acre vegetation fire in Calaveras County yesterday. The flames broke out at 4:40 pm on the 5000 block of Stagecoach Hill Road near Old Emigrant Trail east.
Cal Fire Spokesperson Lisa Williams says, "There is no additional information regarding names, ages or whether it was one person, or several, at this time."
Williams says the person or persons involved could face some "consequences" for their actions depending on their age. She stresses, "They will definitely be educated as to how their actions were dangerous and how they affected the whole community."
Originally, three structures were threatened in the blaze. Williams also warns the public with the Fourth of July coming up to be very careful, as the conditions are so dry any spark could ignite a major wildfire.
Click here for a map of yesterday's fire site.