Update: Vegetation Fire Mountain Ranch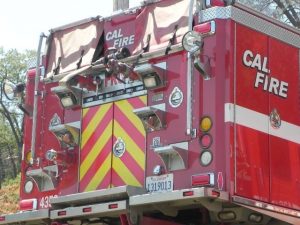 Cal Fire Truck

View Photos
Mountain Ranch, CA — Cal Fire reports the rate of spread has been stopped in the 3 to 5 acre vegetation fire in Calaveras County. Originally, three structures were threatened in the blaze. Cal Fire says those structures are no longer in danger.
The flames broke out at 4:40 pm on the 5000 block of Stagecoach Hill Road near Old Emigrant Trail east. The fire is burning in oak woodland and brush type of vegetation.
Crews are battling the blaze from the ground and air. The resources include 65 firefighters, 7 engines, 2 fire crews, 1 water tender, 2 air tankers and 1 helicopter.  Central Fire is assisting in fighting the fire.
Click here for a map.