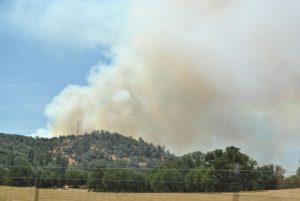 Oak Fire west of Murphy's on Highway 4 Photo taken by: Jim Ridenour

View Photos
Calaveras County, CA — The Calaveras County Sheriff's Office now reports five homes on Riata Way have been evacuated.  Sheriff's Deputies made the evacuations around 4:30 this afternoon.  An evacuation shelter has been opened at the Copperopolis Elementary School at 217 School Street in Copperopolis.  There are also power lines threatened in the area.
A traffic alert has been issued to motorists to avoid Pool Station Road and Riata Way to Highway 4 for the next few hours due to the fire activity. In addition, Pool Station Road at the Highway 4 intersection is closed. CHP Officers are directing traffic in the fire area.
The Oak Fire is 100 acres. Cal Fire reports there is no containment, but the rate of spread remains moderate.  Air and ground resources are on scene including 331 firefighters, 30 engines, 13 fire crews, 7 water tenders, 5 dozers, 4 air tankers, 3 helicopters and Air Attack.
Assisting in battling the blaze are Central Fire, Mokelumne Hill Fire, San Andreas Fire, Angels Fire, Copperopolis Fire, Altaville/New Melones Fire, PG&E, CHP, Calaveras County Sheriff's Office.
Click here to view a map of the area.
We'll pass along more information as it comes into the news center. Photos can be sent to news@clarkebroadcasting.com.  A special thank you to Jim Ridenour for sending in these photos.