Thousands Comment On Rim Fire Recovery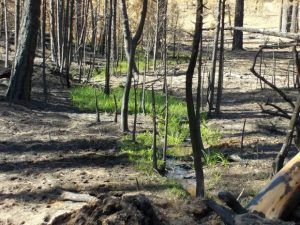 Rim Fire Burn Area

View Photos
Sonora, CA — Nearly 6,000 comments were received on the Draft Environmental Impact Statement for the Rim Fire Recovery Project.
The comment period ended at midnight on June 16. Forest officials plan to release the final draft sometime in August, so that salvage work can begin in the Fall. But first, the Forest Service needs to catalog and respond to the 6,000 comments.
Forest Supervisor Susan Skalski says, "An event as large as the Rim Fire provides an opportunity to look at restoration at a landscape scale and the sustainability of future forested conditions. We're fortunate to see this high level of community involvement."
The Rim Fire Recovery Project includes the salvaging of dead trees on as many as 44,461 acres of the Stanislaus National Forest. The Rim Fire burned over 257-thousand acres, and of which, over 157-thousand acres were in the Stanislaus National Forest.