A Summer Of Music In The Parks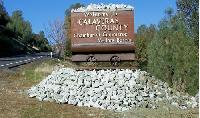 Calaveras County, CA

View Photos
The Calaveras Arts Council has brought back their popular "Music in the Parks" series.
Mary Jane Genochio, Executive Director, was Wednesday's KVML "Newsmaker of the Day".
The summer series of 10 weekly free public concerts called "Music in the Parks," featuring a variety of music styles, was begun in 1992, underwritten by local businesses and individuals. Today, this series is the most popular summertime weekly event.
The series began last week in Copperopolis, continues tonight from 6:30 – 8PM at Utica Park in Angels Camp and will continue at different parks each week through August 13th.
The complete list can be found at http://www.calaverasarts.org/musicpark.html
The Calaveras County Arts Council is a private non-profit 501(c)(3) public benefit corporation.
Founded in 1981, their purpose is to coordinate excellence in the presenting and promotion of the visual and performing arts of all cultures for artists, residents and visitors. The staff is comprised of Genochio, a deputy director and a part-time assistant under the direction of an 11-member volunteer Board of Directors.
To assure that the arts would be an enriching aspect of the area, the Calaveras County Arts Council was organized in 1981 when a County Arts Plan was developed, resulting in the council being accepted as a State-Local Partner with the California Arts Council, a state agency.
In 1983, in the county seat of San Andreas, Calaveras Arts renovated a "quonset hut" building which, for 5 years was used as the office. In 1989 they organized an artists' cooperative to sustain a gallery/office in Murphys called the Art-Op. In 1990, through county government support, they established their present office/gallery on historic Main Street in San Andreas.
The Council is proud of its' history of presenting quality performing artists, filling a cultural need.
For 12 years, they have presented the Sacramento Symphony at public and children's concerts. To keep classical music in the forefront, in 1994 they started Calaveras Classics, which became "Ovations" in 2003, a performing arts series to reflect a diversity of music and dance.
The largest fundraiser of the year is the Cajun Fete on Saturday, August 2nd at the Pioneer Hotel in Sheep Ranch. The headline musical act is Tom Rigney & Flambeau. The annual event features dinner, dancing and plenty of arts.  If you have something to donate to the silent auction, please call 209-754-1774.
The Arts Council is not directly a part of county government. However, from the County, they do receive annual in-kind rent support for the office and gallery in San Andreas.
The "Newsmaker of the Day" is heard each weekday morning on AM 1450 KVML at 6:45, 7:45 and 8:45am.