Smell Of Pot Led To Arrest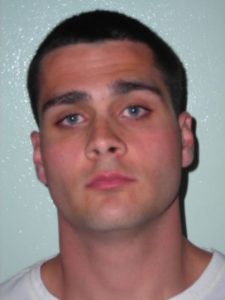 Mark Hyder Photo courtesy SPD

View Photos
Sonora, CA — A Twain Harte man was arrested after an alert hotel clerk tips off police. The incident happened Monday around 11:30 pm at the Inns of California in downtown Sonora.
Sonora Police Officers responded to the hotel after a clerk reported smelling marijuana coming from a recently rented room.  The clerk told officers she became suspicious of the man renting the room when he gave her a debit card that was declined.  A second card was accepted, but then the man used a "flimsy" New York driver's license as identification to rent the room.
Officers questioned three people inside the room and smelled a strong odor of burnt marijuana, but none of the people had a medical marijuana card. Police say the man who rented the room was 21-year-old Mark Hyder.  A records check showed Hyder was on probation out of Tuolumne County for resisting a police officer. He was also wearing an ankle monitor.  In Hyder's wallet, officers found the New York identification card, with someone else's name and photo on it, along with three counterfeit debit cards.
Hyder was taken into custody without incident. He was arrested on felony charges of false impersonation of another, using a forged access card, burglary, and violation of probation.
The two other people were not arrested as police determined they had no idea Hyder had used a fake card to rent the room.