Sonora Chamber Partners With 2nd Saturday Arts Night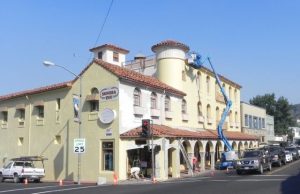 Sonora Inn Painting

View Photos
The Sonora Chamber of Commerce has officially partnered with downtown Sonora's 2nd Saturday Arts Night.
B.Z. Smith, founder of 2nd Saturday Arts Night, was Friday's KVML "Newsmaker of the Day".
Smith stated, "We are happy to have the backing of the Sonora Chamber of Commerce. This will allow some great opportunities for growth. The Chamber is already helping us to strengthen our business model and help us with some fundraising ideas. Additionally, they'll be able to help us network better with the Tuolumne County Visitors Bureau, so that we can invite people from out of the area, to Sonora."
Tomorrow night (Saturday June 14th) will be Art night #46. The hours run from 5 PM through 8 PM.
It began in 2010 with six art galleries and about one hundred and fifty people. According to Smith, the monthly amount of participating merchants has grown and the crowds have grown to an estimated eight hundred to one thousand people.
Musicians perform mostly free of charge. Tip jars are available for appreciative audiences. The musicians, of every genre of music, can be found in clothing stores, art galleries, restaurants and outside on the sidewalks of downtown Sonora.
2nd Saturday Arts Night also gives merchants in downtown Sonora a chance to  showcase their stores, often with special sales or incentives to come inside.
For more information, log onto http://www.2ndsaturdayartnight.org/
The "Newsmaker of the Day" is heard every weekday morning on AM 1450 KVML at 6:45, 7:45 and 8:45am.