Calaveras Adopts Stage 3 Water Conservation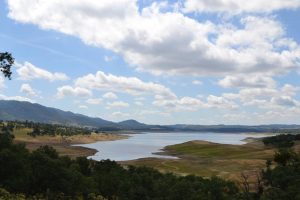 New Hogan Reservoir

View Photos
San Andreas, CA — During a regular board meeting held Wednesday June 11, the Calaveras County Water District (CCWD) Board of Directors voted to enact Stage 3 water restrictions.
Joel Metzger, customer service and community relations manager at CCWD says, "We recently got a curtailment notice from the state that we cannot use any water diverted from a stream unless it is was for health and human safety."
The state's notice, sent early in June, did not define how CCWD's already collected water could be used. The water district voluntarily decided to enact Stage 3 conservation in a good faith effort prompted by Gov. Jerry Brown's declaration of a drought state of emergency a few months ago.
The 12,600 CCWD water customers that were asked to voluntarily conserve are now under new mandatory rules. Homes at even addresses can only water outside on Monday, Wednesday, and Friday. Odd addresses can water Tuesday, Thursday, and Saturday. Watering should only be done between 6:00pm and 10:00am, to avoid evaporation during the hottest hours of the day. For other commercial restrictions view the CCWD website.
The goal is a 35% reduction in use, extreme violators convicted of the misdemeanor water violation crime can be fined up to $600 and 30 days in jail.
Metzger says in the end the state has full power and could require Stage 4 conservation at any time. Stage 4 would mean no outdoor watering unless from a container of salvaged (shower) water. Metzger says CCWD does not expect to hear a response from the state anytime soon as it will be processing many curtailment responses.