Fire Danger Increasing In Forest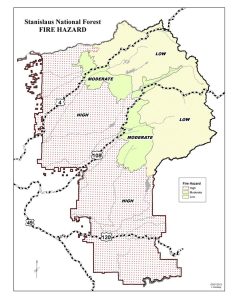 Fire Hazard Map courtesy of Stanislaus National Forest

View Photos
Sonora, CA — Effective Friday, several fire restrictions will take effect in the "High Hazard" areas of the Stanislaus National Forest.
The restrictions prohibit campfires, briquette barbecues, and smoking outside of developed campgrounds, in designated High Hazard areas. "Conditions on the forest, the anticipation of an active fire season, and fire activity observed during the Rim Fire last year, confirm that it will take diligence by all of us to prevent wildfires," says Chris Schow, Fire Management Officer on the Stanislaus National Forest. "Unfortunately, we continue to find a large number of unattended and escaped campfires on the forest."
It is noted that 16 unattended campfires have been spotted in the Stanislaus National Forest so far this year, and there were 133 in 2013.
The Forest Service notes that beginning at 12:01 a.m. Friday, the following prohibitions go into effect by Forest Order in designated High Hazard Areas on the Groveland, Mi-Wok, Summit, and Calaveras Ranger Districts of the Stanislaus NF:
Campfires. Building, maintaining, attending or using a fire, campfire, (including briquette type barbecue), or stove fire is prohibited, except within developed recreation sites. Persons with a valid California Campfire Permit may use a portable stove or lantern that uses gas, jellied petroleum, or pressurized liquid fuel within developed recreation sites.
Smoking. Smoking is prohibited, except within an enclosed vehicle or building, a developed recreation site, or while stopped in an area at least three feet in diameter that is barren or cleared of all flammable material.
Welding. Operating acetylene or other torch with an open flame is prohibited, except by permit.
Use of Explosives. Using an explosive is prohibited, except by permit.
Maps displaying the High Hazard fire zones are available for pickup at any Stanislaus National Forest office.