The Forest Service Needs You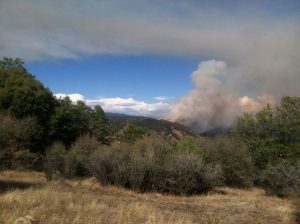 Rim Fire in Stanislaus National Forest2

View Photos
Sonora, CA – As the state drought conditions linger, the Forest Service wants to remind the public about wildfire prevention.
"Our firefighters know we could be looking at a very tough fire season, and they're ready to do their jobs," said Chris Schow, Forest Fire Chief.  "I'd ask the public's help in preventing unwanted wildfires by joining the One Less Spark campaign and providing defensible space around homes where our firefighters can work safely."
Another area of concern is unattended campfires. Stanislaus National Forest Spokesperson Rebecca Garcia says, "Unfortunately, unattended campfires continue to be an issue on the forest. With the dry conditions this year they could spell disaster, and we don't want to see another Rim Fire."
Forest Officials say rangers found 133 unattended campfires in 2013 and 16 left burning so far this year.  In the Stanislaus National Forest, natural causes are to blame for over 50 percent of wildfires. Statistics dating back to 1970 show campfires have accounted for 695 fires, cigarette smoking 368, arson 235 and debris burning 228 blazes. Forest Officials are asking you to study up on fire prevention through its "One Less Spark – One Less Wildfire" campaign.
Also of note, Forest Officials say they have been hiring and training firefighting personnel for the upcoming fire season since March.  Two Hot Shot crews and attack-dozers were back on duty as of May.  Also, the Bald Mountain Helicopter is set to come on board in mid-June. Forest Officials say the number of fire staff remains the same as last year.