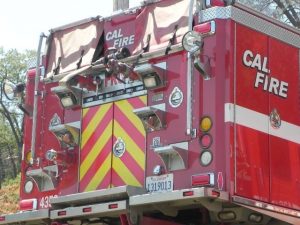 Cal Fire Truck

View Photos
Mariposa, CA — Firefighters continue to battle the Valley Fire in Mariposa County this morning. The fire is now 15% contained and has grown from 35 to 90 acres. Last night, evacuation orders were given in the Hunters Valley area.
The flames broke out around 5:30 pm in the Hunters Valley Road area near the southeast shore of Lake McClure. One structure was destroyed and others are threatened, which has prompted the Mariposa County Sheriff's Office to issue an evacuation order for portions of Bear Valley Road and Hunters Valley Road.  The Red Cross has set up an evacuation center at the Catheys Valley Baptist Church at 4565 Cornetts Entrance Road.
The fire is in the same region where the 677 acre Hunters Fire started on Memorial Day and was contained on June 2.
Click here for a map of the fire area.