Cattle Grazing In Rim Fire Area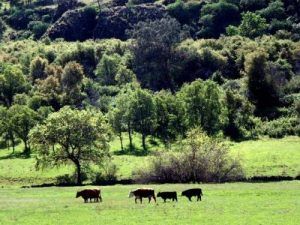 Cattle

View Photos
Tuolumne County, CA — The Forest Service anticipates that there will be additional cattle grazing next year within the Rim Fire footprint.
As reported previously, the Tuolumne County Supervisors voted to send a letter this week to Forest Service officials voicing concerns about the lack of grazing allowed this summer. Click here to view the earlier article.
Susan Forbes, a Range Management Specialist in the Stanislaus National Forest, says there are 14 cattle allotments within the Rim Fire footprint. She says grazing is currently allowed on eight of the allotments, but six are off limits. She says the decision was made months ago due to the high fire severity within those six allotments, and the potential "values at risk" related to resources in the area. She says there were also issues related to fencing burned in some of the allotments.  Forest officials began assessing the burned allotments last September in anticipation of the grazing season, which typically runs from around Mid-May through September.
Those six allotments could be back in business around next May. "Our assumption is that we will be grazing next year," adds Forbes. "We'll be looking at the vegetation out there, and we'll let our permittees know as soon as our monitoring is done at the end of the season. We're anticipating grazing next year."
Last year's Rim Fire burned over 257K acres.