Three Vegetation Fires Combined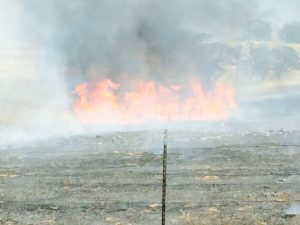 J-59 fire Photo taken by: Anginette Mayes

View Photos
Tuolumne County, CA — Cal Fire reports it is combining three vegetation fires in Tuolumne County into one now that the acreage has grown to 200 to 250 acres.  The fire is being called the J-59 Fire.
The flames broke out around noon today on J-59 and Bonds Flat Road.  Crews have been fighting the flames from the ground and air.  Cal fire reports there is no containment at this time. Battling the blaze are four tankers, two helicopters, seven engines, a dozer and two hand crews.
Update 3:35 pm: Cal Fire reports the blaze is now 500 acres in size.
Click here for a map of the fire site.