Three Fires Now In Tuolumne County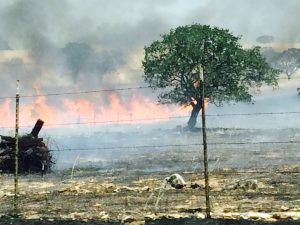 J-59 fire Photo taken by: Anginette Mayes

View Photos
Tuolumne County, CA — Two vegetation fires are near J-59 and Bonds Flat Road and a commercial structure fire is near Columbia.
Cal Fire reports crews are fighting the J-59 fires from both the ground and air.  One of the blazes is 10 acres and the other is 20 to 30 acres in size.  The fire is in grass and oak woodlands.  There are no reports of structures in danger at this time.
Update 1:45 pm: Cal Fire reports one of the fires has grown to 80 acres.
Click here for a map.
In addition, firefighters are still on the scene of a structure fire near Columbia.  The first call went out at around 11:20 am for a commercial structure fire on the 13700 block of Big Hill Road.  Cal Fire reports the flames were coming out of the attic of the structure.  A fire investigator has been called in to investigate the cause of the blaze.
Update 1 pm: Resources still on scene of a commercial structure fire, but the flames are contained.  Cal Fire reports a fire investigator is on scene trying to determine what sparked the blaze.
Click here for a map.
We will bring you more information on these fires as soon as it is available.  Special thanks to Anginette Mayes for sending in photos of the fire.