Thousands Of Ballots Still To Be Counted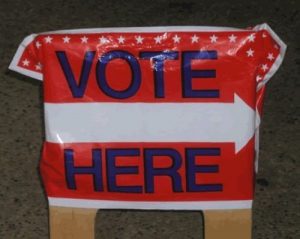 Election Sign

View Photos
Sonora, CA — Election Day is in the past, and some local races are still too close to call.
Thousands of vote-by-mail ballots were dropped off at polling locations yesterday, and they will need to be processed over the next few days. Tuolumne County Clerk and Auditor Controller Debi Bautista reports that there are roughly 2,160 vote-by-mail and provisional ballots still to be counted in Tuolumne County. Calaveras County election officials estimate that around 2,100 ballots still need to be counted.
One race that's too close to call is Sonora City Council. There are two seats open, and Jim Garaventa and George Segarini are currently the top two vote getters. Mark Ferreria trails Segarini by only four votes. Fourth place Matt Hawkins is back by 15 votes.
Incumbent Randy Hanvelt had 64% of the vote to win the District Two Tuolumne County Supervisors seat. Right now, Mike Dambacher and Kaenan Whitman appear headed for a runoff in November for Tuolumne County Assessor-Recorder.
Calaveras County Sheriff Gary Kuntz won his re-election bid with 56% of the vote to Patrick Garrahan's 43%. Headed for a runoff in the District Three Calaveras Supervisors race are Merita Callaway and Michael Oliviera, and in District Five its Steven Kearney and Marti Crane.
Incumbent Republican Tom McClintock was the top vote getter in the House District Four race, and it appears that he will be facing Republican Challenger Art Moore this November.
Democratic Governor Jerry Brown will face Republican challenger Neel Kashkari. Both statewide ballot propositions were easily approved. One will help provide low-income housing for Veterans and the other is related to public record laws.   Find a complete list of the local results in the Election Section of myMotherLode.com.