14 Displaced in Quail Hollow Fire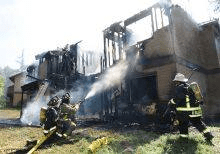 Fire at Quail Hollow Apartments Photo taken by: Terianna Campbell

View Photos
Sonora, CA — A structure fire has damaged four units at the Quail Hollow apartments and has displaced several people.
CAL Fire Battalion Chief Jeff Sanders reports the top two units are a total loss, and they are salvaging the belongings of the residents in the bottom two units. Some vegetation was damaged by the heat. The building is located at 12810 Chukar Circle impacting apartments A, B, C, and D.
According to Office Manager Deah French 11 adults and three children were living in the four apartments. Chief Sanders says Red Cross has been notified.
Sonora Police evacuated the apartment building before fire crews arrived at approximately 10:00 AM. Firefighters remain on scene as of 11:00 AM and Chief Sanders reports they are not in mop-up yet, they were still working to contain the fire. No flames were visible outside the structure. There is no word on where or what started the fire at this time.
There was one injury reported to an occupant, a twisted ankle.
Special thanks to Terianna Campbell, Jordan Newington, and Tiffany Vargas for sending in photos of the fire.