Fewer Traffic Jams At Yosemite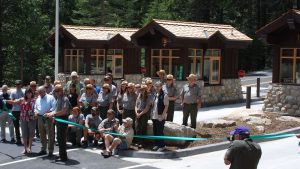 Ribbon Cutting at South Entrance to Yosemite National Park Photo courtesy Yosemite National Park

View Photos
Yosemite, CA — New kiosks at Yosemite National Park have cut entrance wait times and traffic jams.
The new south entrance station is on Highway 41.  Park Officials say three kiosks were built along with a separate exit lane to help streamline traffic through one of the busiest park entrances.  In the past, summer visitors could typically wait for up to 45 minutes just to get through the gates.
Ranger Kari Cobb says, "It's [the new entrance] also reduced our traffic impact. At some of the three-way stops inside the park near the south entrance, traffic can get backed up. This alleviates that."
The park held a ribbon cutting to celebrate the new gate Thursday.