Generous Community Scholarships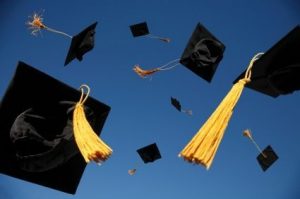 Graduation Caps

View Photos
Sonora, CA — The community comes out in generous support of Mother Lode students.
One hundred and twenty-three Sonora High School Students received a total of $423,918 in scholarships.  In addition, 50 seniors at Summerville High School received $201,000 in scholarship money.
Diana Harford, Principal, Connections Visual and Performing Arts Academy says, "What has amazed me is that since the recession first hit the amount of scholarships dollars that has gone to our students has actually stayed the same or gone up in the last six years.  It's really impressive."
Also, impressive are the 43 scholarships totaling $19,325 that will be given out to Cassina High School, Theodore Bird High School and Sonora Adult School students at their graduation ceremony on June 4.  Sonora and Summerville students have already received their scholarships at separate award ceremonies earlier this month.
One note: Clarke Broadcasting is pleased to announce it has awarded $2,000 scholarships to these three local high school seniors to help continue their academic studies.
Tiana Mohr of Sonora High School
Shane Roberson of Summerville High School
Scott Tyler Nowack of Cassina High School