Photos Released Of Suspect In Theft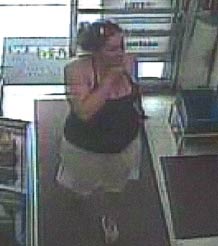 Angels Camp Police photos

View Photos
Angels Camp — Photos of a suspect in a vehicle and credit card theft have been released by the Angels Camp Police Department.
The incident began last Wednesday when the Angels Camp Police located a stolen vehicle  in the 300 block of South Main Street. Witnesses reported a heavy-set female with dark hair wearing a blue tank top exited the stolen vehicle and entered a nearby business. She was reportedly picked up later by a Hispanic male in a blue sedan.
The next day a credit card was reported stolen from a vehicle and used at two businesses in Angels Camp. The Angels Camp Police Department says both incidents were caught on surveillance video and the video confirms that the suspect from the stolen vehicle is the same suspect that used the stolen credit card.
The suspect the police are looking for was last seen in a possibly blue sedan, reported as maybe a 1990's model Toyota Camry.