Hunters Fire Acreage Drops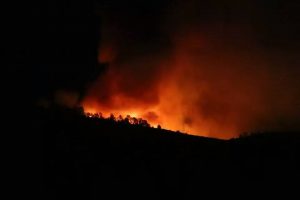 Picture taken from view of fire from Lake Don Pedro subdivision on Merced Falls Road Photo taken by: Katherina Coggins

View Photos
Mariposa, CA — Cal Fire now reports 677 acres have burned and the flames are 40% contained. Cal Fire attributes the decrease in acreage to getting crews on the ground to survey the entire fire area. The drop in acreage also allowed the evacuation order to be lifted at 6 pm tonight for those 100 homes that were threatened. Residents in the Hunters Valley area, including Hunters Valley Road, Hunters Valley Access Road, Detwiler Road and Cotton Creek Road have been allowed back into their homes. Residents are required to show Identification to enter the area.
Cal Fire Spokesperson Frank Bigelow says, "Because we are transitioning more to a mop up stage we have cancelled that evacuation order. The nearest fire line to the closest homes is 600 yards so we felt very comfortable to be able to let those homeowners go back to their houses."
Three structures have been destroyed, including a home, cabin and outbuilding. Tonight over 900 firefighters are on scene. The number of injuries has grown to eight. Bigelow says crews will continue to build and strengthening the containment lines and put out hot spots.