Little Growth On Hunters Fire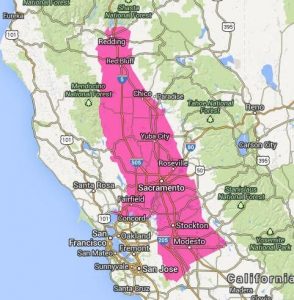 Red Flag Fire Warning
Mariposa, CA — CAL Fire reports this morning that the Hunters Fire remains around 1,300 acres and 20% contained.
The fire has progressed principally southward with some advance on both the eastern and western edges. Three structures have been destroyed, including a home, cabin and outbuilding. 100 home are still considered threatened. Evacuation orders are in effect for the Hunters Valley area, including Hunters Valley Road, Hunters Valley Access Road and Detwiler Road. An evacuation center is located at 2820 Highway 140 in Cathey's Valley. Large animals can be taken to the Mariposa County Fairgrounds.
Nearly 700 firefighters are on scene this morning. There are over 80 engines, three air tankers, four helicopters, 22 crews, seven water tenders and six dozers. CAL Fire has activated a regional Incident Management Team Six to the fire.
Also of note, A Red Flag Fire Warning has been issued for much of the Central Valley through tomorrow due to dry conditions and high winds.
The map in the image box shows the region that is under the Red Flag Fire Warning.