Hunters Fire Numbers Grow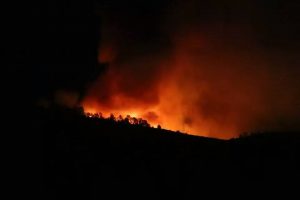 Picture taken from view of fire from Lake Don Pedro subdivision on Merced Falls Road Photo taken by: Katherina Coggins

View Photos
Mariposa, CA — The number of firefighters, injuries and structures destroyed has increased as the Hunters Fire continues to burn in Mariposa County.  The acreage remains at 1,300 with 20% of the fire contained. There are now three structures destroyed. One was a cabin and another was a home. Cal Fire reports both were abandoned. Also, an outbuilding has burnt down. One hundred homes are still threatened by the flames.
There are now almost 700 firefighters on scene near the southeast shore of Lake McClure. The injuries have grown to five with four minor injuries and one serious involving an inmate and a chainsaw. That inmate was flown to a Modesto Hospital.
Cal Fire Spokesperson Daniel Berlant says, "We are expecting the winds to pick up some what this evening and that could pose a challenge as dark takes over and it's harder to see."
Berlant says luckily the winds were light today keeping most of the fire activity within the fire's perimeter and there were only a couple of spot fires outside.
There has been no change in the evacuation orders, which remain in the Hunters Valley area of Mariposa County, including Hunters Valley Road, Hunters Valley Access Road and Detwiler Road.
The American Red Cross has set up an evacuation center at the McKay Hall on Highway 140 in Cathey's Valley. A domestic animal shelter is also at the site.
The fire started at around 3:30pm on Monday. Currently there are 83 engines assigned, 22 total crews, three air tankers, four helicopters, seven dozers, six water tenders and 671 firefighters on the scene. Agencies that are assisting CAL Fire include the CHP, CDCR, Mariposa County Sheriff's Office, Mariposa County Fire, US Forest Service, BLM and dozens of local fire agencies.
Firefighters have been dealing with steep terrain and the drier than normal conditions fueling the fire.
To view a map of the area, click here.
A special thanks to our community news partner Vickie Eiland and Katherina Coggins for sending in photos of the fire. Photos can be sent to news@clarkebroadcasting.com.