Hunters Fire 20% Contained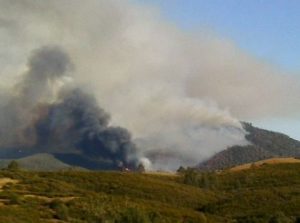 Hunters Fire

View Photos
Mariposa, CA — CAL Fire reports that the 900 acre Hunters Fire is now 20% contained.
An evacuation order remains in effect for the Hunters Valley area of Mariposa County, including Hunters Valley Road, Hunters Valley Access Road and Detwiler Road. The fire is near the southeast shore of Lake McClure.
The American Red Cross has set up an evacuation center at the McKay Hall on Highway 140 in Cathey's Valley. A domestic animal shelter is also at the site.
The fire started at around 3:30pm on Monday. One structure was destroyed and 100 nearby homes are in danger.
Currently there are 39 engines assigned, 13 total crews, six air tankers, four helicopters, seven dozers and six water tenders. Nearly 500 firefighters are on scene. Agencies that are assisting CAL Fire include the CHP, CDCR, Mariposa County Sheriff's Office, Mariposa County Fire, US Forest Service, BLM and dozens of local fire agencies.
Firefighters have been dealing with difficult terrain and much drier than normal conditions for this point of the season.
To view a map of the area, click here.
A special thanks to our community news partner Regina Munoz for sending in photos of the fire. Photos can be sent to news@clarkebroadcasting.com.