Youth Baseball Coaches Arrested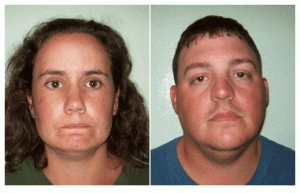 Elisa and Lynn Lloyd

View Photos
Twain Harte, CA — A husband and wife have been arrested on charges related to lewd and lascivious acts with a minor.
Earlier this year the Tuolumne County Sheriff's Office began investigating reports of a possible unlawful relationship between Lynn Lloyd and a 14-year-old female. The Sheriff's Office says officials at a local elementary school notified authorities, and some of the evidence consisted of love letters written by Lynn to the victim. Additional evidence later gained by the Sheriff's Office showed that an unlawful sexual relationship was actively occurring.
During the course of the investigation, evidence showed that Lynn's wife Elisa Lloyd was also involved in the relationship with her husband and the minor. At this time, the Sheriff's Office would not comment as to what extent. The Lloyd's were recently arrested at a Twain Harte motel that they were known to be residing. Lynn Lloyd has been booked on $50,000 bail and Elisa Lloyd on $100,000 bail.
The Lloyd's were actively involved in the community and served as baseball coaches for local youths. Because of this, the Sheriff's Office is requesting any additional information from the public that may be known about the Lloyd's involvement in illegal activities with minors. Anyone with information should contact Detective Brandon Lowry at 209-694-2955.
The Sheriff's Office reports that the name of the elementary school referenced above is being withheld at this time to protect the identify of the minor.
Update: On August 23, 2015 Lynn Lloyd and his wife, Elisa Lloyd, 34 year old transients, plead guilty to five molestation counts and a charge of conspiracy to commit a crime. They will face up to a year in county jail plus probation.