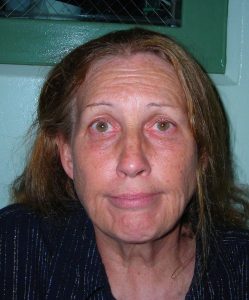 Paula Lopez SPD booking photo

View Photos
Sonora, CA — The Mother was driving the car, but both she and her son were arrested for DUI.
The crash happened around 5:30 pm Thursday on Stewart Street near the intersection of Lytton Street in downtown Sonora.  The Sonora Police Department reports that 61-year-old Paula Lopez of Sonora was driving northbound on Stewart Street in a 2006 Chevy sedan when her son 21-year-old Zachary Lopez, in the passenger seat, grabbed the steering wheel.  Officers say the two were arguing over how fast the Mother was driving and the jerk of the wheel caused the car to smash into a parked vehicle on the eastside of the road.
Sonora Police say the two showed signs of being under the influence of a controlled substance, but complained of pain and were taken to Sonora Regional Medical Center.
Later, Paula Lopez was arrested for driving under the influence of a controlled substance, and driving without a valid drivers' license. Sonora Police say Zachary Lopez was determined to be under the influence of a controlled substance.  He was also arrested for DUI because he grabbed the steering wheel causing the crash.
As reported Thursday, the wreck blocked the intersection and traffic was detoured from Lytton Street onto Restano Way for about half an hour as the debris was cleared.