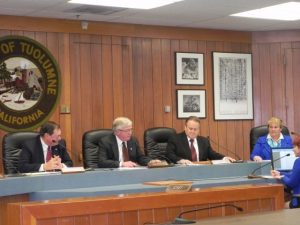 Tuolumne County Board of Supervisors

View Photos
Sonora, CA — The Tuolumne County 2014-15 fiscal budget faces about a half million deficit to the General Fund, but nobody wants to cut staff according to the county's administrator.
Yesterday, the Board of Supervisors got an update on the numbers for the budget.  County Administrator Craig Pedro says most of the funds are balanced but the biggest challenge is the General Fund.  Initially, it showed a $1.4 million deficit.  However, the Board approved moving some one-time funding and contingency money around to bring that number down to $409,000.
County Administrator Craig Pedro says, "I've been tasked with going back to every department in the county, line item by line item, to try to find the money to close that gap. We don't want to reduce staff any further, which, if we did, could have service impacts to the public."
Supervisors gave direction to the staff on top priorities.  District 5 Supervisor Karl Rodefer says, "I think it's important that we make a commitment to the Sheriff's office and really to the safety of our citizens that we do not in this next budget decrease the investment in our law enforcement." Rodefer suggested the funding continue at the same level as this year's budget.
Pedro says he started meeting with Department heads today to work on bring the deficit numbers down. The Board will get the preliminary budget for review in July. Currently, the total General Fund is around $56.2 million.