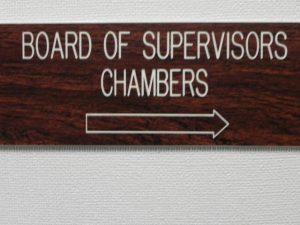 Tuolumne County Board of Supervisors Sign

View Photos
Sonora, CA — Tuolumne County ends the year in the same or better financial condition than projected in the mid-year budget review.  One reason, county expenses were notably lower.
The General Fund is slated to have a positive balance of $813,000, which is a $216,000 jump from the mid-year report.
County Administrator Craig Pedro says, "We are projected to end [the General Fund] with $813,000.  Our contingency is roughly $1,167,000 and that would give you an adjusted $1,980,000 so that's what you would see for you beginning balance of the coming year.
The Fire Fund will also have a balance of $317,000 reflecting a cost savings due to the Cal Fire contract.   One proposed use for that additional money would be to help buy a new fire engine, which something the Supervisors favored.
Pedro says there are several areas the staff is monitoring for possible reimbursements or financial aid from the state and federal government.  Those include the Rim Fire, drought and AB109 funding, which could influence the final budget when all the numbers are tallied.
The Board voted unanimously to accept the year-end budget report. The Board will review the final budget numbers at its June 3 meeting. The total General Fund is around $58 million.