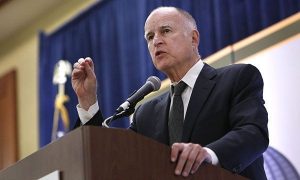 Governor Jerry Brown

View Photos
Sacramento, CA — Governor Jerry Brown has pulled in millions for his re-election campaign even though he faces little threat.
The Governor yesterday reported that he has nearly $21 million in the bank for his re-election campaign, but is expected to easily win one of the top two spots in the primary and advance to the November election.
The Governor's challengers are Republican Neel Kashkari, a former U.S. Treasury official, who earlier this week added another million dollars of his own money to his war chest and Republican Tim Donnelly, a state Assemblyman.