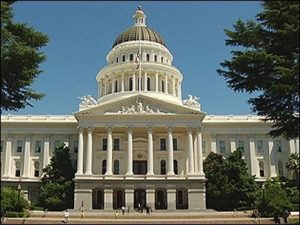 California Statehouse

View Photos
A bill that would ban plastic bags at most California retail stores has passed through the Assembly Natural Resources Committee.
SB 270 passed on a 5-3 vote. It includes implementing a 10-cent fee on paper bags. In addition, it allocates $2 million for worker training so plastic bag manufacturers can shift production towards reusable bags.
The bill was authored by Democratic Senators Alex Padilla and Kevin de Leon. They note that cities like Los Angeles, San Francisco and San Jose already have similar bans in place.
A national coalition of plastic manufacturers has come out in opposition of the bill. The group states that it could cost 2,000 jobs in the state.
The ban would take effect in 2015 for grocery and retail stores, and then apply to pharmacies and liquor stores in 2016.