McClintock And Moore Receive Endorsements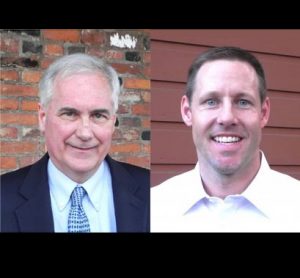 Tom Mcclintock and Art Moore

View Photos
Sonora, CA — Some notable names are picking a side in the Congressional District Four race where the two front-runners are both Republicans.
Incumbent Congressman Tom McClintock is being challenged by Art Moore. McClintock has 22 years of experience in the State Legislature, and was elected to the U.S. Congress in 2008. McClintock is a highly recognized conservative leader in the state.
Moore graduated from the U.S. Military Academy at West Point and has 14 years of combined active duty and National Guard Service. He also spent eight years as a business executive.
McClintock's campaign reports that his re-election campaign has the endorsements of 10 county Republican party organizations, including the Tuolumne County Republican Party and the Calaveras County Republican Party. The campaign also notes that McClintock has endorsements from Tuolumne County Supervisors Randy Hanvelt, Karl Rodefer and John Gray, as well as from Sonora City Councilmembers Hank Russell, Matt Hawkins and Connie Williams.
McClintock has received national endorsements from influential groups such as the Howard Jarvis Taxpayers Association, Freedom Works PAC, Family Research Council PAC, and the U.S. Chamber of Commerce. Tom Donohue, President and CEO of the U.S. Chamber wrote, "On behalf of the world's largest business federation representing the interests of more than three million businesses and organizations of every size, sector, and region, I am pleased to inform you (McClintock) that the U.S. Chamber of Commerce's Board of Director's has endorsed your candidacy for the U.S. House of Representatives."
The challenger, Moore, has a shorter list. However, he has picked up a notable endorsement in former Mother Lode Congressman George Radanovich. Radanovich put out a statement, "The people of the 4th Congressional District need fresh blood and a representative willing to work with others to get things done." Radanovich represented the region from 1995-2011. Moore's election bid has also received the endorsements of Mariposa County Supervisors Kevin Cann, Merlin Jones and Lee Stetson. Two are Republicans and one a Democrat. Nate Beason, Chairman of the Rural County Representatives of California has also endorsed Moore.
The primary election is coming up on June 3rd.