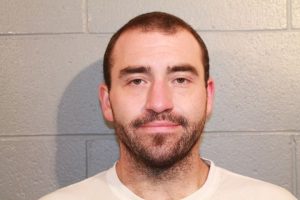 Michael Wilmshurst Angels Camp booking photo

View Photos
Angels Camp, CA — A domestic dispute led to a police chase and arrest in Calaveras County.  It happened yesterday around 6:44 in the morning at a home on Gold Cliff Road in Angels Camp.
Police were called to the home on a report of a man with a knife possibly under the influence of narcotics.  When an officer arrived on the scene, he found 29-year-old Michael Wilmshurst of San Andreas outside the home while a female had locked herself inside.
The officer called to Wilmshurst who walked away from the officer, got into his vehicle, and then drove away.  Angels Camp Police say the officer took off after Wilmshurst believing he may be a danger to the public due to the report of a knife and possibly being under the influence.  Wilmshurst was driving erratically and the officer tried to pull him over, but was unable.
Deputies from the Calaveras Sheriff's Department and officers from the California Highway Patrol joined the chase.  Wilmshurst finally stopped his vehicle on Hwy 49 near Carol Kennedy Drive and was arrested.  There is no word on whether Wilmshurst was under the influence or if he had a knife at this time.
Wilmshurst was booked into the Calaveras County Jail on charges related to evading a peace officer, resisting/obstructing a peace officer, and reckless driving.