Groundbreaking For Summerville Stadium Project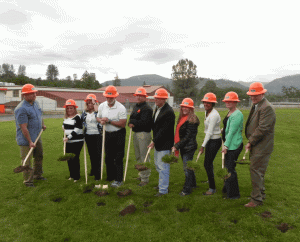 Summerville Stadium Groundbreaking
Tuolumne, CA — The dirt has been turned over and construction can now begin on the $3.1 million dollar Summerville High School stadium renovation project.
A contract was awarded to Robert Boyer Construction at a Board of Trustees meeting last night, and immediately afterwards was a groundbreaking ceremony. The stadium renovation project includes improvements to the field, a new all-weather track, and a new snack shack. The bleacher replacement project is separate, and a contract will be awarded at a later time.
Last night's ground breaking included an introduction by Superintendent Robert Griffith, Pledge of Allegiance led by Malitay Peterson-Wood, and the Star Spangled Banner presented by the Orange Crush Band. Speakers then included Board President Bret Taylor, Summerville High School Foundation President Jessi Leveroos, and Tuolumne County Superintendent of Schools Joe Silva.
Portions of the speeches focused on how the field is a classroom that helps teach life skills, and how this is the kickoff to the multiple Measure H bond projects that will occur over the next few years.
Weather permitting, construction on the stadium renovation will start this week.