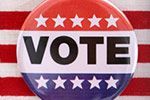 Elections

View Photos
Sonora, CA — The nearly 22,000 Tuolumne County residents that vote-by-mail will be receiving their ballot this week.
Tuolumne County Clerk and Auditor Controller Debi Bautista says around 73% of the voters choose to receive their ballot in the mail. Some people will send back the ballots back relatively quickly, but others will wait until the very last moment.
"Usually they hang onto them, but we would appreciate if they would return them a little bit faster," says Bautista. "Usually, at least 10 percent are returned on election night. That slows down the process. If one doesn't trust the mail, if that is the issue, they also can also be dropped off at my office."
Bautista explains that all vote-by-mail ballots dropped off at polling locations on election day are counted, but if there is a high number received, it often takes several days to complete the process.
May 19th is the last day to register to vote prior to the June 3rd primary.